The Beswetherick Family from Lostwithiel, Cornwall
We have been tracing our family from Cornwall and we decided to start with Ann Maria Beswetherick who was born in Summer Lane, Lostwithiel on 26 January 1839. Her parents were William Beswetherick born in Lostwithiel in 1812 and Catherine Stephens born in Liskeard in 1809. She had one sister, Susan who was born on 26 March 1841. The spellings for the name vary on each document and could be; Beswarrick, Beswarick, Beswathick and Beswarthick.
Our journey was started by their grandson, Jesse Lionel Geoffrey Hancock, who spent hours at the Mormon Church, long before the internet carried such information for researchers.
Ann Maria seemed to have had a rather interesting life as she gave birth to many children, prior to her marriages. She also seemed to have been very poor, having lived in Bodmin workhouse when she was pregnant.
We know of several children but think that there could be more. On 10 June, 1860, at Lewis's Court, Lostwithiel, she gave birth to William John Beswarick. On 15 January, 1863, at Lewis's Court she gave birth to Louisa Beswarick. Ann Maria was a domestic servant at The Union Workhouse at Bodmin. Maud Mary Beswarick was born in The Union Workhouse on 4 August, 1870. She was followed by Caroline, also born at The Union Workhouse in Bodmin, on 25 August !873. On 15 July 1874, Ann Maria married William Jeffery at Bodmin Register Office. He was a gunner in The Royal Artillery and she was then a dressmaker. We understand that they were "courting" for some years and that William would suddenly disappear off on duty with the army, leaving Ann Maria pregnant! On his return they would resume their relationship. On 29 January 1876, at Lewis's Court, Lostwithiel, she gave birth to their child, Sarah Eliza, known as Bert. William Jeffery was then a gunner in the 10th Brigade, Royal Artillery. Edwina Maria was born on 6 February, 1878 at Brading on The Isle of Wight. William had been posted to Sandown and they were living at 17, Fort Lane, a few minutes from the long beach on the Esplanade. On 20 June, 1880, at Tangier, Lanlivery, Stella Ann, known as Nance, was born. By that time, William was a general labourer. Edwin Pascoe Granville was born on 3 January, 1883 at Fort Lane, Sandown. On 12 October, 1886, at Tangier, Lanlivery, Beatrice Susan was born to Maud Mary Beswarick, now known as Jeffery. Beatrice Susan was brought up as their daughter by Ann Maria and William. We do not believe that she ever knew the truth.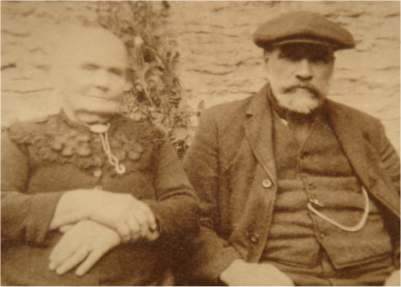 Ann Maria and William Jeffery in Devonport in about 1914
Ann Maria William
After leaving the army service and in order to secure work, William took his family to Devonport. They lived at 1, Pembroke Street, until Ann Maria died on 5 February, 1927 at Ford House, Devonport aged 88 years. Surprisingly, William remarried Bertha Brown on 29 June, 1927 at Plymouth Register Office. They lived together at 13 Prospect Row, Devonport. Bertha then died on 23 October that same year in Ford House aged 78 years. They were then living at 13 Clowance Street, Devonport. They had only four months together! William died 13 June, 1928 at Ford House aged 86 years. It is this odd tale that has set us on our path. We would love to hear from any descendents who may be able to add to our story.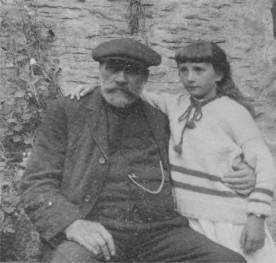 William and Grand daughter Irene
Karen Johnson 07769 200850 or e-mail kazjohnson@live.co.uk