HOW OUR FAMILY BEGAN
Ann Maria
In 1841 Ann Maria lived with her parents William and Catherine at Helier Cottage, North Bodmin Hill in Lostwithiel where her father was an agricultural labourer. Her sister, Susan was born there on 26 March,1841.
In 1851 they were still at North Bodmin Hill, probably in a different property. By this time her father was a miner and their grandfather John Beswetherick had moved in with them.
By 1861 they had moved to Lewis's Court and Ann Maria was still living with them, working as a dressmaker. She had a son that year and named him William John. She had another child, Louisa, born 15 January 1863.
Ann Maria was a domestic servant and she gave birth to Maud Mary on August 4 1869 at The Union Workhouse.
By 1871, she had returned to her parents at Lewis's Court with her children and on August 25 1873, she gave birth to Caroline at The Union Workhouse at Bodmin.
The Children
William John Beswetherick (Beswarick)
William was born in Lewis's Court, Lostwithiel, on 10th June, 1860 and had no father registered on his birth certificate.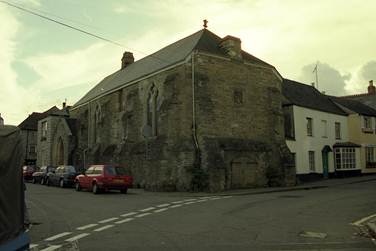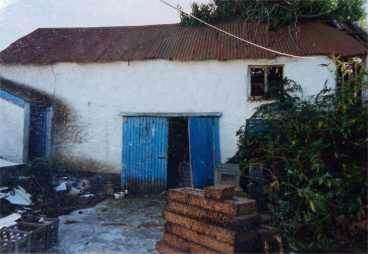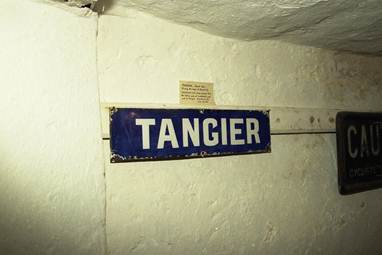 Lostwithiel Lewis's Court Lostwithiel Tangier

He was living with his grandparents, William and Catherine while his mother, Ann Maria, worked as a dressmaker In 1871 William was still living with his grandparents and mother at Lewis's Court .Also appearing on the Census are two more children of his mother Ann Maria, Caroline and Maud Mary. Neither of these children have a father named on their birth certificate. The 1881 census shows William, aged 20 years and working as a mortar mason. He continued to live with his grandparents and also his sister, Caroline, aged 7 years. In 1891, he was living in lodgings at Salford and working as a mason.

He moved to Somerset after he married Elizabeth Jane, (Eliza), in July 1891at Lanlivery Church. Eliza Jane was born in June 1865. They had a son Frederick J who was born at 9 Cliftonwood Crescent in Clifton in Bristol on 17 December 1891 and a daughter Dorothy Louisa Mabel born on March 24 in 1902. Their address then was 38 Umbia Vale, East Clifton. Eliza Jane died on 30 April, 1937.

Dorothy married Stanley Blackler who was born in Liskeard, Cornwall on 11 June, 1932. They resided at 41 High Street, Glastonbury. Dorothy and Stanley had two boys William (Billy) and James (Jim).

William George Blackler was born on 24 April 1935 at Glastonbury.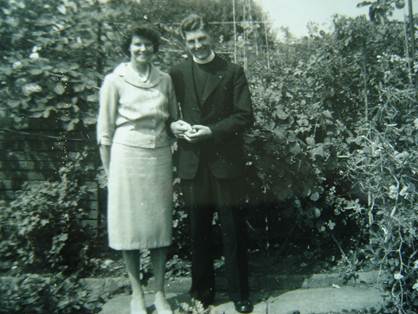 Billy and wife

Stanley James Blackler was born on 9 October 1939 at Glastonbury. He married Brenda Margaret Hornby, born 22 August 1944 at Manchester on 31 March, 1965. They had two sons Andrew James Blackler born 21 July 1966 at Birmingham and Philip Iain Blackler born 6 October 1970 at Nuneaton.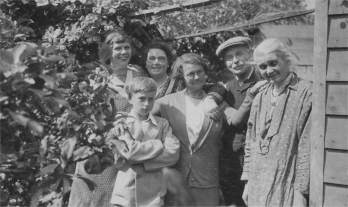 Dorothy Beswetherick, Jesse Lionel Geoffrey Hancock, Beatrice Susan Hancock, Nancy , William and Eliza Beswetherick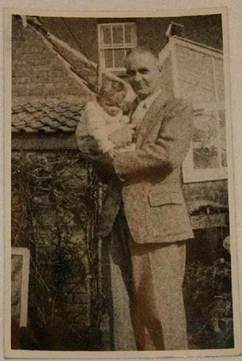 Fred Beswetherick with Jim Blackler
Louisa Beswetherick
Louisa was born on 15 January 1863 at Lewis's Court, Lostwithiel where she joined her brother William, then 3 years old. Her father was also unnamed on her birth certificate. By the time of the 1871 census they were joined by another sister, Maud Mary in 1870. Louisa was then 8 years old. By the time of the 1881 census, Louisa was in service at 8 Market Street, Bodmin. She was working for Emma George, a widow of a clerk from the probate office. Emma George had 11 children whose ages ranged from 1 to 20. The older children whose ages ranged from 13 to 20 were all employed in a range of occupations from the eldest son who appeared to have his late father's job as clerk in the probate office, to post office and solicitor's clerk to dressmaker's apprentice. She moved to Kent and by the1991 census she was a servant to Henry and Eliza Garrett at Chatham, Kent. Between Oct and Nov 1892, she married Charles William Lancaster in the Medway, Kent. He was born in 1866 and was from Camber, Winchelsea, Sussex. By 1901, they were living at Chatham Dockyard, Gillingham. They lived at 1, Police Quarters because Charles was a Police Constable for Metropolitan Police Force. By then they had 3 children, Frederick born in 1895, Charlotte born in 1896 and Ernest born in 1898, all born at New Brompton.
Maud Mary Beswarithick (Jeffery)
Maud Mary Beswarithick was born on 4 August 1869 at The Union Workhouse, Bodmin. Her father was also not named on the birth certificate. In the 1871 census, Maud was living with her mother who was a dressmaker then and her grandparents Catherine Beswarick, born 1809 and her husband William born in 1812. They were still living at Lewis's Court, Lostwithiel. She had her brother William John aged 10 years, sister, Louisa aged 8 years In 1881 Maud was living with her mother now named a charwoman and her sisters, Sarah Eliza, aged 4 years, Edwina Maria aged 3 years and Stella Anne aged 10 months at 17 Fort Lane, Brading on the Isle of Wight. This is at Sandown, close to the beach and the old fort. Her step father, William, had been stationed there whilst working in the Miner's militia. They were left manning the forts around the country from their Bodmin base. He was stationed around the country and was away for long periods. Maud had her first child very young, aged 17 years. Beatrice Susan was born on 12 October, 1886 at Tangier, Lanlivery. Maud was now calling herself by her mother's married name of Jeffery and the baby was named that as no father was named on the birth certificate. The circumstances of this birth we believe to be a great family secret as nobody ever mentioned it and certainly Beatrice was known as a sister and brought up by Ann Maria and William as their own child.
She had another two daughters. They were living at 7B High Street, Stonehouse. They had 2 daughters, Lilian Isabella Maud known as Molly was born on 31 May 1898, and in 1901, Violet Evelyn known as Betty arrived. Maud Mary married Edmund Barnard Lobb and lived at 14, Nevern Place in Kensington, and married at The Register Office in Kensington, London in 1908. They lived for some years in Kutchery Road in Karachi which was then in Pakistan. Edmund was a manager of a telephone company, an engineer and an agent for the Bombay telephone Company. His father was a civil engineer called Theophilus Lobb, who was born in 1843 and Edmund's grandparents were Anne Mary Lobb, born in 1803 in Gosport and Ellis Goode Lobb born in 1807 in Islington. They lived at St Michel le Querne, Middlesex and they had 4 servants working for them in the 1851 census. Molly and Betty spent most of their childhood in Karachi and then returned to live at Ferrer's Lodge, Newton Ferrers, Devon.
Maud with Molly and Betty Maud with Molly and Betty in Pakistan circa 1903 Maud and servant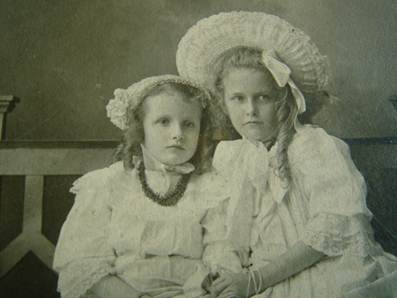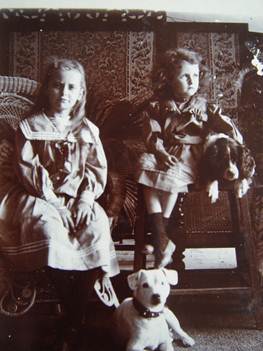 Betty and Molly Molly and Betty
Molly married Jack Campbell in 1920. He was in the Royal Navy and later rose to the rank of captain and was noted for his work around Australia during WW2.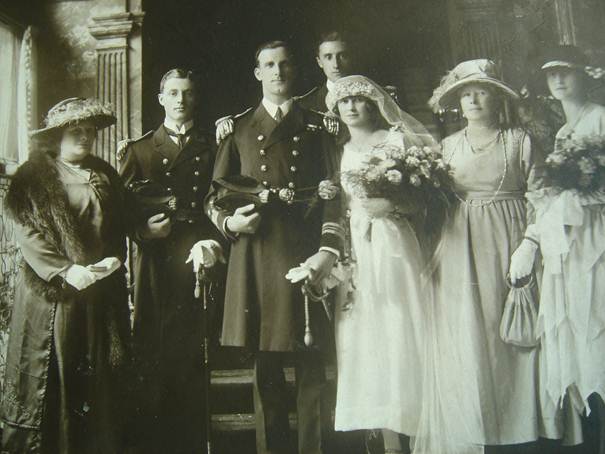 Molly's wedding to Jack Campbell
They had two boys, John born in 1923 and Peter Duncan born in 1924. Peter died whilst training in the Royal Air Force number 1388191 in 1942. He is understood to have crashed in his plane. It was a completely devastating event from which Molly never recovered. John born in 1923, married Avice and had 4 children, Heather (born around 1955/6), Peter, Guy and Roger. They lived for some years at Ramla, Altwood Drive, Maidenhead. Betty married Gerald Hinds Duffield, who was born in 1896, and who was from Stourbridge in Worcestershire, at Newton Ferrers Church on 1 September 1925.
Ferrers Lodge Newton Ferrers, Devon
He was in the army at some time, although he was listed as a secretary at the time of their marriage. They lived in Bagshot for many years where they bred Cocker Spaniels under the kennel name of Lofield. Then they retired with 3 remaining black Cockers, Midnight, Magic and Margaret to Alderney in the Channel Islands where they bought a bungalow and some land at Blue Stones, Longy Bay. After about fifteen years they decided to sell up and return to Devon. They bought a bungalow at 3, Oldlehill Grove, Abbotskerswell. Betty died in December 1980 and Gerald the following year.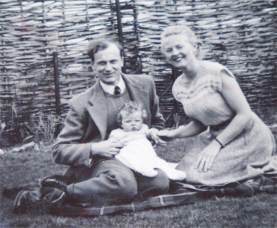 John and Avice with Heather circa 1955/6
Maud Mary moved after the death of Edmund and lived at 13 Alleyne Gardens in Hartley Vale, Plymouth. She then moved into a nursing home at Plympton where she died of old age on 5 April 1953.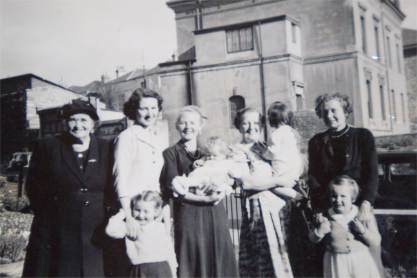 Beatrice Susan Hancock, Thelma Jean Hancock, Karen Hancock, Avice Campbell, Heather Campbell ,unknown friend and children and Molly Campbell

Caroline Beswarick

Caroline was born on 25 August 1873 at The Union Workhouse, Bodmin. She lived with her grandparents at the time of the 1981 census as her mother and step father had moved to the Isle of Wight. She was then only seven years old. We are unable to track her after that, although we do have the record of a 'Catherine' Beswarick living as a servant in the 1891 census at Plymouth in the Charles district for the Waters family. They were Abigail and Richard Waters. We are unable to comprehend why her mother, Ann Maria, left her when she went to Sandown on the Isle of Wight.

Caroline and her grandmother Catherine Beswetherick nee Stephens

Sarah Eliza Jeffery

Sarah Eliza known as Bert was born on 29 January 1876 at Lewis's Court, Lostwithiel, Cornwall. Her father was Ann Maria and her father was William Jeffery who was a gunner in the Royal Artillery. She married Charles Harrison and had 2 children and they lived at Amity Lodge in Newton Ferrers. They were Kathleen, born 23 September 1906 and Wilfred Leslie born on 7 August 1910.

Amity Lodge Edwin Jeffery with sister Sarah Eliza and her husband Charles Harrison

Kathleen known as Kitty married WJ Littleton who was a plumber in the Royal Navy and who died on HMS Duke of York in 1943, aged 38 years. He is buried in Newton Ferrers churchyard.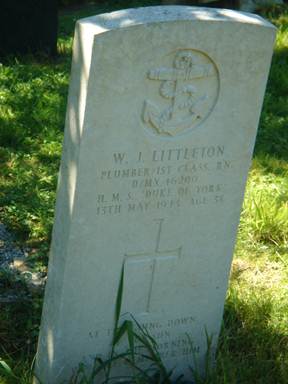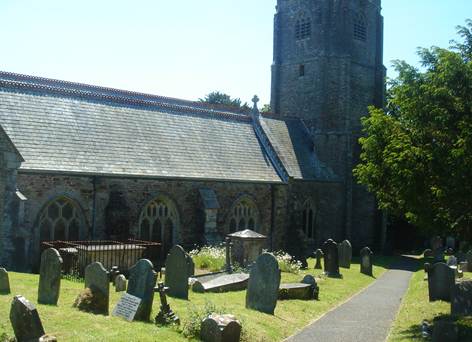 We think that this is the only war grave in Newton Ferrers churchyard.
Kitty and her husband had 5 children. They were Beryl circa 1922, Vernon (circa 1923), a daughter who died (circa 1924), Brian (born 1927) and Norman (1929). Wilfred was known as Leslie.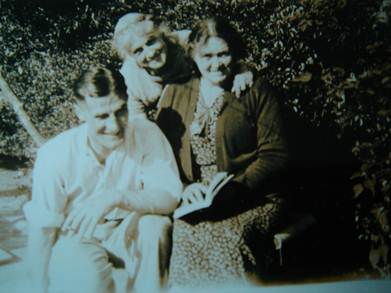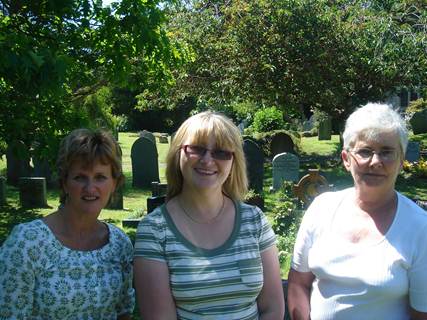 Wilfred Leslie Littleton, Sarah Eliza and Beatrice Susan. (1930s – 40s) "cousins" Sara, Karen and Linda
Edwina Maria Jeffery
Edwina, known as Hetty, was born on 6th February, 1878 at Brading, Isle of Wight. She married a private Royal Marine, Thomas Harvey (born 1869) on June 4th 1900 and they were then living at Waterloo Street, Stoke, Plymouth and the following year at Admiralty Street, Plymouth. Their daughter Violet was born 4th May, 1914 in Swansea, Wales. Edwina died in Chatham, Kent on 22 August, 1955. She had a grandson who reported her death who was S Williams.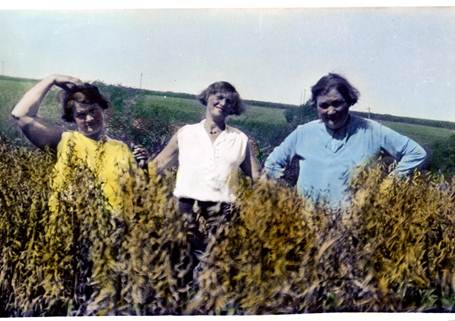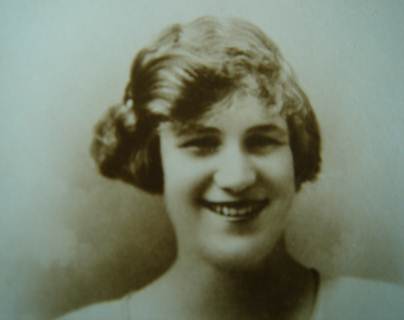 Sisters - Nancy and Hetty Violet
Stella Ann Jeffery
Stella Ann, known as Nancy or Nance, was born on 20th June 1880 at Tangier, Lanlivery, Cornwall. On 22nd June, 1903, she married Henry Adams. who was born 4th January 1979 in Spilsbury, Wainfleet, Lincolnshire, at St George's Church, Devonport. They had three daughters, Beatrice Dorothy, known as Dot, on 4th April 1905, Irene Stella, known as Rene, born 30th October 1910 and Noel Ceris born 22 December 1912 and who sadly died the following day. Dot's partner was Leonard Holmes, known as Len. He worked for Fox and Eliot and was a long term member of the Plymouth lifeboat team. His brothers were also members of the lifeboat crew. Len died suddenly at work in 1955. Rene married Derek, John, Noah Webb, born 22nd August 1911. They had one daughter, Linda on 7th February, 1941. Linda married Alexander Albert Hardie on 5th September, 1960. Their daughter, Theresa was born on 15th July 1961. Linda and Alec later divorced in 1975. Theresa married Barry Keith Stephens on 5th June, 1982 and after seven years they too divorced. Theresa and partner Andrew Paul Carn, born 27th May, 1952 had their son Thomas Luke Carn on 29th October, 1992.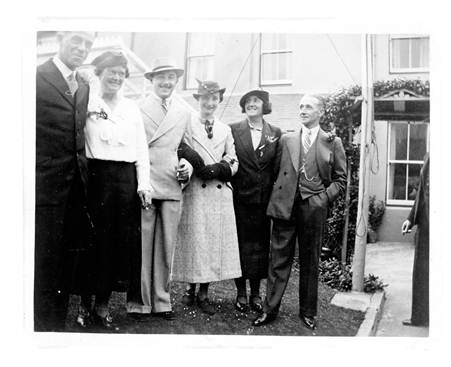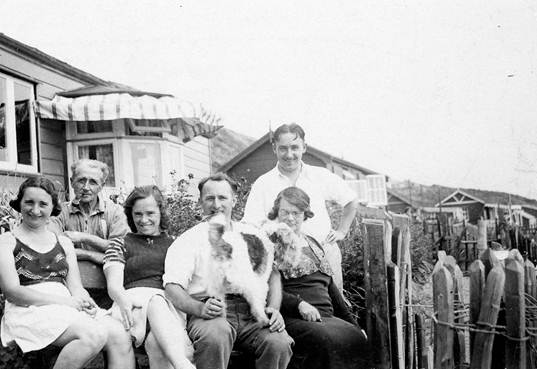 Webb wedding Bracken bank
Edwin Pascoe Glanville Jeffery
Edwin, known as Ned, was born on 3rd January 1883 at Fort Lane, Sandown, Isle of Wight. He became a metropolitan policeman, in 1905, whilst stationed at Islington. He married Esther Florence Brunnen on 20th July, 1911. She was born 18th August 1892. Initially they lived in Samuel Road, Walthamstow and later moved to The White Hart Inn at Wimbish, Essex on his retirement from the Metropolitan police. Their children were Edward born 1916, Robert known as Bobby was born in 1918 and died 1943, Joan born 1920, Lorna born 12th September, 1922 and Dennis born in 1924. We know very little about Edward. Bobby married Alice but who unfortunately died young during the war which makes us think that he died during war service. We know nothing about Joan except that she was married to George and lived at Thaxted. Lorna had a son Bernard in 1939 and later married Arthur Grice, born 1896 and died 1987 and who lived locally in the village. Their son was Trevor was born in 1949 and who died in 1987. Trevor married Helen Phillips, born 1951 and who sadly died in 2008. Their daughters were Mandy born 1969 and Tracey born 1970. Mandy married Stuart Blows and had Rebecca and Jordan and Tracey had a son Nicholas Bridges and later married Richard Byrne and had three more children Toni, Daniel and Alexander. Helen had one more daughter Suzette and a son, David with her second husband. Trevor married Barbara Marsden, born 1955 and they had two sons, Adam and Stephen. Dennis married Diane and had a daughter Annette who married David Charles Whittaker about 1970.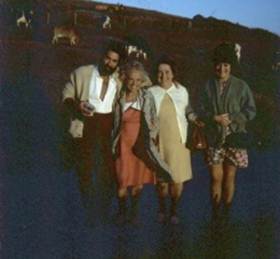 Dennis and family Ned Ned and family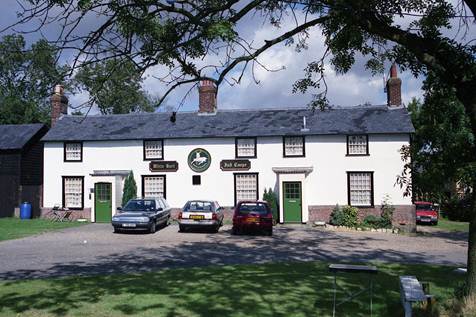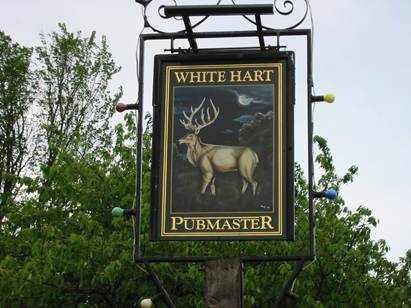 White Hart pub White Hart sign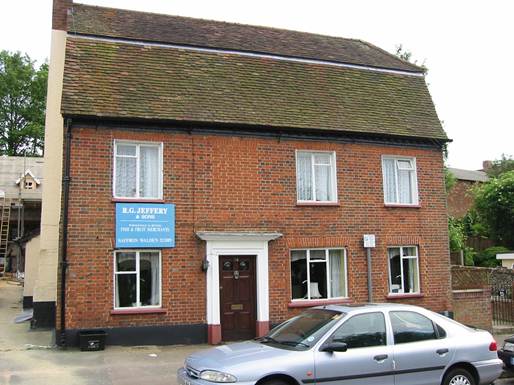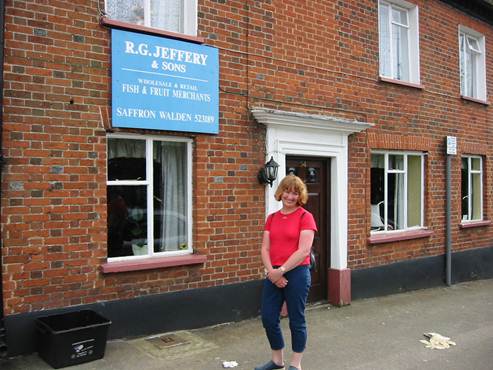 Castle Street Jefferys Jeffery sign
Beatrice Susan Jeffery
Beatrice Susan ( Beat or Susie) was born on 12th October 1886. She was born to Maud Mary Jeffery but was brought up as her sister and thought of Ann Maria and William as her parents. She was later to marry Jesse Lionel George, known as Dick at St Pancras Church, Pennycross, Plymouth on 30th December, 1908. They were living at 35 Barn Park Road at the time. He was in the Royal Navy and then they later became publicans, owning The Jubilee Hotel on The Barbican Plymouth. They had two sons, Jesse Edwin Georrge (Eddie) on 18th June, 191 and Jesse Lionel Geoffrey (Geoff) on 16th January 1925. Dick died suddenly in 1936. She died on 20th December 1960. During the war they both joined the RAF. Geoffrey was a Flight Lieutenant, training on B27s in Canada and Eddie went on through wartime squadron 32 to become a Squadron Leader and then to be awarded the DFC whilst also being mentioned in dispatches. Geoffrey returned to Plymouth and became an environmental health officer for Plymouth city council. Eddie was a bachelor until 1960 when he married local hotelier and widow, Doris Heath. Geoffrey married Thelma Bickham on 24th January 1947 and had one daughter, Karen, on 18th March 1952. Karen married Andrew Charles Tingle, born 14th November, 1951, on 27th July 1974 at Gloucester register office. They had two children, Hannah Claire Tingle born on 2nd August, 1980 and Adam James Tingle, born 22nd November, 1985. Unfortunately they were to divorce in 2001. Hannah marries her partner Michael Donnington on 28th May 2011 and they are proud parents to Ella May, born 23rd December, 2007 and James Andrew, born 27th January, 2010. Adam and Partner Natalie Roseann May Wilkinson, born 22nd January 1990, have a son, Vinnie Charles, born on 14th November, 2010. Karen married Stephen James Johnson on 27th May 2003.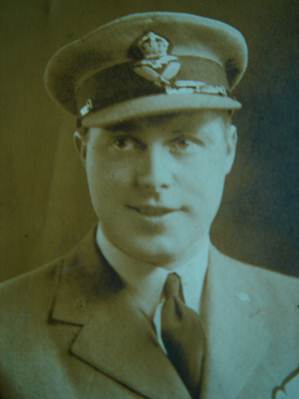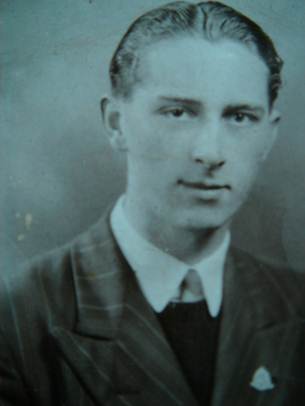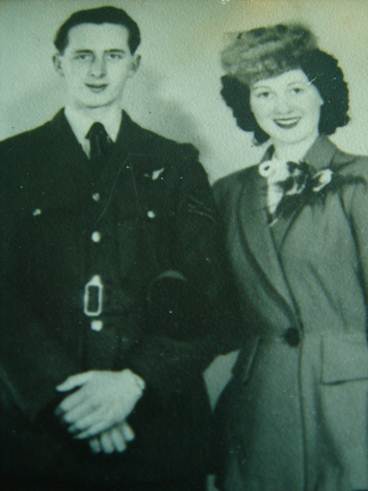 Eddie Hancock Geoffrey Hancock Geoffrey and Thelma Hancock